I've been called the Queen of Foot Fetish ... or something like that and what can I say, it's true. I've got great feet that men and women love to admire and worship! Foot boys can be 'vanilla' in every other way or they can be total kinksters with other fetishes to go along with their attraction to feet. I always take foot boys for a ride on MyDollParts.com presenting feet in glorified ways, beautiful women showcasing their feet and worshiping each other's feet, pleasure shared all around!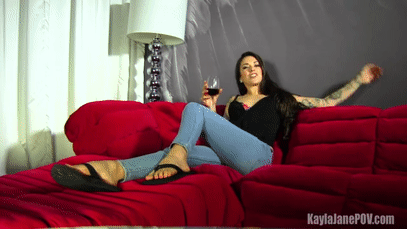 Recently since I've been offering custom videos a surge of new POV foot videos have come to exist ! So foot boys will be excited to know there is something for each subset of you! In honor of all the new videos about to be released on KaylasKinkShop.com and http://clips4sale.com/store/42918 here are some newer videos you should check out to feed that Kayla Jane Foot Fetish! 
Indulgent Sensual Foot Session:
Videos coming up include foot JOI, foot worship instruction, foot tease & appreciation, simulated footjob, dangling, toe wiggling, toe pointing, flip flops, high heels, dangling, edging, and so much more! 
Don't forget if POV foot videos aren't your thing, mydollparts.com has all the sexy foot worship, foot tease, strip tease and goodies you will have to see to believe!  
xxx Kayla Jane Danger 
Please reload