Come inside mydollparts.com for a delicious latex domination scene between Mistress Kayla Jane Danger & her latex clad pet Kalina Ryu. 
 Kayla Jane Danger is a benevolent Mistress, she allows her sweet submissive Kalina to shiny her pretty latex dress, bare legs & ass before and after a spanking.
Kayla dresses her dolls up in latex so they shine like she does, and Kalina looks stunning in latex panties and a latex garter belt holding up her nylon stockings.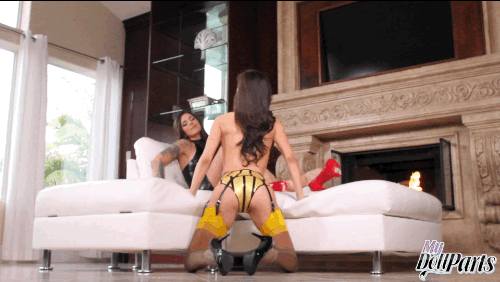 Mistress lets Kalina kiss and worship her bare ass before making her clean up her lipstick mess, which is hot as hell to watch!  Kalina is so eager to worship Kayla's high arched feet and you can see it in her eyes. Kalina licks Kayla's soles & sucks each and every toe, she drools and slobbers all over her pretty feet.  
Don't be late to this latex party starts on September the 2nd! JOIN NOW!
or BUY The Video ON DEMAND HERE
xxx Goddess Kayla Jane Danger 
Please reload