Grooming Janice (The Video)
Janice is eager to be a doll, she knows exactly what her tasks will be before she even begins. When she walks into My bedroom perched atop the highest platform wedges that lace up her ankles, wearing a plaid skirt and chunky sweater her cuteness is just too much.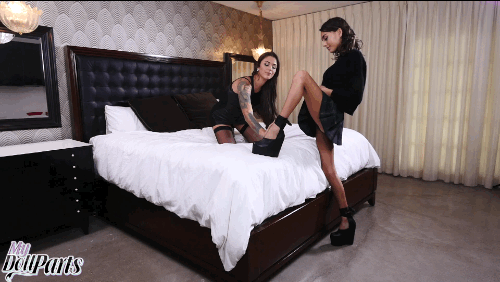 I want to see what's under all that clothing, so I have her strip down for me, letting me peek under her skirt getting a good idea of what she's working with before she's even undressed. Janice can't wait to be naked for me and once she is she bounces on the bed and to my service.
She removes my boots one by one worshiping my stockinged feet before removing my dress so I can show off my exotic lacy lingerie. Janice can't wait to get her mouth back on my feet, she sucks my toes in my stockings then helps me take them off so she can lick between my toes, suck them off individually and lick my pointed wrinkled soles until they are soaked.
This is just the beginning of our encounter and grooming Janice into the perfect Doll. This New Video is live on mydollparts.com 02/17 Join Now!
xxx
Kayla Jane Danger 
Please reload